He was on the brink of becoming the first man to cross the Antarctic unaided. But explorer Henry Worsley has died in his attempt.
His family says the 55 year old former British army officer was just 48 kilometres short of completing the record solo crossing when he had to be airlifted off the ice.
Worsley had covered nearly 1500 kilometres over 71 days on his own, including passing the south pole, when he was forced to call for help after suffering exhaustion and severe dehydration.
He was flown to a hospital in Punta Arenas, Chile where he had surgery after doctors discovered he had an abdominal infection. He died yesterday.
In Worsley's final statement from Antarctica, he described how his desire to help wounded soldiers with their rehabilitation was the central focus of his expedition. He also described his sadness at having to pull out so close to completing the challenge.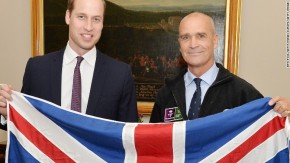 Prince William was patron of the expedition and has expressed his sadness at the explorer's death, saying he and Prince Harry had lost a friend.