10 artworks created by Jewish artists during the Holocaust, have on display in Berlin.  It's the first time they've been exhibited outside of Israel.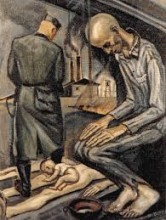 The collection is from the Yad Vashem Memorial in Jerusalem.  It went on display at the German Historical Museum this morning.
The works, all by Jewish artists in hiding, in concentration and labour camps, or in ghettos and show the cruel reality of the Holocaust.  Of the 50 artists featured, 25 were killed by the Nazis.
The show runs through April 3rd.