Torontonians love the mayor!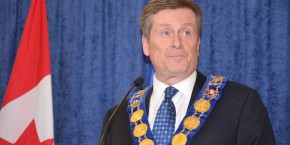 John Tory's popularity is still riding high, even among voters who cast a ballot for Olivia Chow in the 2014 municipal election.
A Forum Research poll conducted on Monday January 25th finds Mayor Tory has a 73 percent approval rating, more than a year into his term.
And 78 percent of Chow voters said they approve of the job Tory has done since taking office.
Those who voted for Tory don't seem to have buyer's remorse. Around 93 percent of respondents who said they voted for Tory in the last election approve of the job he's doing.
The survey also suggests Tory is especially popular among older voters (79%) and the wealthiest voters (79%).