Americans in the State of Iowa have begun the process of electing a new president.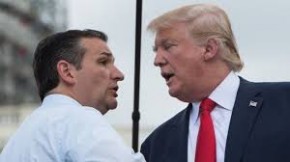 This morning, Texas Senator Ted Cruz gets to claim momentum from the Iowa Caucuses and eight delegates to the Republican National Convention.  However, another happy candidate heading toward the next race in New Hampshire, is Florida Senator Marco Rubio, who came within striking distances of second-place finisher Donald Trump.  Trump is still seen seen as leading among Republicans in New Hampshire.
For the Democrats, Hilary Clinton captured 22 delegates in Iowa to Bernie Sanders' 21 with one delegate left to be decided.
After the Iowa results came in, former Maryland Governor Martin O'Malley ended his Democratic campaign and former Arkansas Governor Mike Huckabee dropped out on the Republican side.