Prime Minister Justin Trudeau begins the tough task of trying to hammer together a Canadian climate policy framework, when he sits down with the Premiers and indigenous leaders in Vancouver today.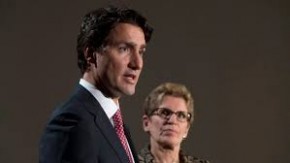 The Prime Minister begins the day preaching to the choir about climate change and innovations, joined by B.C. Premier Christie Clark.
Trudeau then sits down with the country's 13 premiers and first nations leaders to discuss how to lower Canada's carbon footprint as nearly 200 countries pledged to do at the U-N climate summit in Paris in December.
Ontario Premier Kathleen Wynne is using the meeting to push for clean drinking water for First Nations across the country.  Wynne says if governments can't work together on something as fundamental as drinking water, they should be ashamed of themselves.