After Mitt Romney called Donald Trump a phony and fraud yesterday, the attacks on the billionaire Republican presidential front runner continued at a GOP debate in Detroit.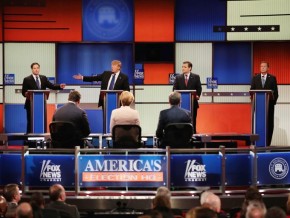 Rivals Ted Cruz and Marco Rubio went after Trump's conservative credentials, business practices, his changing policies, and his personal ethics and nastiness.
"In this campaign for the last year, Donald Trump has basically mocked everybody with personal attacks.  He's done so to people who are sitting on the stage today, he's done so about people who are disabled, he's done it about every other candidate in this race, so if there's anyone who deserved to be attacked that way it's Donald Trump," Rubio said.
"He hit my hands, nobody's ever hit my hands, I've never heard this, he hit my hands. Are they small hands?, Trump asked the audience as he held them up, "And he referred to my hands, if they're small, something else must be small, I guarantee you there's no problem, I guarantee you."
The moderator also asked Trump, how he answers criticisms by former Republican presidential candidate Mitt Romney.
"Well look, he was a failed candidate," Trump explained, "He should've beaten President Obama very easily. He failed miserably, and it was embarrassment to everybody including the Republican party. He looked like he went away on a vacation the last month, so I don't take that, and I guess he wants to be back in the game."
If Romney and his allies succeed in bringing down Trump, the enraged New York business mogul is threatening to leave the party and run as an independent, taking his millions of supporters with him.
Romney's proposed solution for stopping Trump is for voters to back whichever candidate has the best shot at defeating him in each of the state primaries or caucuses that remain.
Democrats are likely watching with delight the Republican infighting that surpasses even the intraparty turmoil that gripped the GOP in 1968 and brought Richard Nixon to the White House.