It's where the magic and the witchcraft began.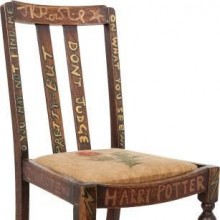 The humble chair that J.K. Rowling sat on while writing the first two books of the Harry Potter series is going on the auction block in New York April 6th with an opening bid of $45,000.
The chair is an unassuming 1930's oak chair with a replacement burlap seat which Rowling had in front of her typewriter in Edinburgh where she wrote "Harry Potter and the Sorcerer's Stone" and "Harry Potter and the Chamber of Secrets."
The chair will be on display at Heritage Auction's Park Avenue gallery beginning Friday.