The man described as the chief ISIS bomb maker is still on the loose.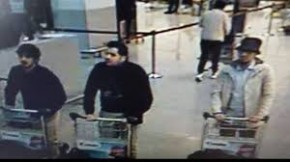 Earlier reports from Belgian media indicated that Najim Laachraoui was taken into custody this morning in Brussels.  Authorities now confirm that an arrrest was made but it's not the man seen in security video, wearing a hat and pushing suitcaes through Brussels' airport with two brothers, identified as suicide bombers, who are believed to have died when their bombs went off.
A claim of responsibility for the terror attacks at the Brussels airport and a subway station in the Belgian capital has been followed by a threat from the Islamic State terror group of even more attacks.
The death toll in yesterday's attacks is now 34, with nearly 2-hundred injured.
Justice and interior ministers from across the 28-nation European Union are planning an emergency meeting possibly for tomorrow to assess the fallout from the bombings.