The fiction writer, poet, outdoors man and reveler who wrote the historical saga "Legends of the Fall", has died at age 78.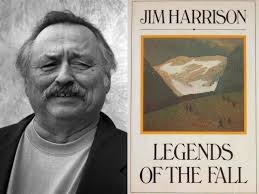 Jim Harrison died over the weekend at his home in Arizona.  Cause of death was not released.
The versatile and prolific author completed more than 30 books during his career, his most recent was the novella collection "The Ancient Ministrel."  His "Legends of the Fall" was a best-seller and Harrison worked on the script for the Oscar-nominated 1994 film of the same name starring Brad Pitt, Anthony Hopkins and Aidan Quinn.
Harrison was sometimes likened to Ernest Hemingway for the range and kinds of his interests.  He was a hunter and fisherman who savored his time in a cabin near his Michigan hometown.  He was also a heavy drinker and Hollywood script writer who was close friends with Jack Nicholson.