A rededication ceremony was held today at Nathan Phillips Square to honor the opening of the relocated and renovated Toronto Peace Garden.
Toronto Mayor John Tory, alongside Consul-General of Japan, Yasunori Nakayama, Hiroshima Peace Ambassador Setsuko Thurlow, and Peace Garden founder Father Massy Lombardi came together to participate in this symbolic ceremony. The opening of the garden marks the completion of the Nathan Phillips Square Revitalization Project and serves as an important memorial and a lasting testament to peace.
The improved garden is now situated in the landscaped area on the west side of Nathan Phillips Square. The main feature of the garden is the reflecting pool, which is surrounded by native trees and plants. In the center of the pool is the rekindled flame.
Father Lombardi came up with the idea for building the Peace Garden when Toronto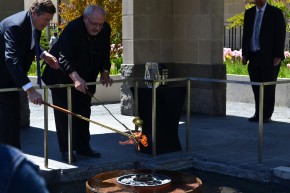 was declared a nuclear-free zone in 1983. He lit the Flame of Peace for the first time 32 years ago and lit it once again today with the help of Mayor Tory.

At the event, the Jarvis Collegiate Institute choir sang beautiful hymns to commemorate those who served in war and to honour Toronto's pledge for peace. Traditional tribal elder Cat Crieger also performed the symbolic smudging ceremony using sage medicine to purify the land.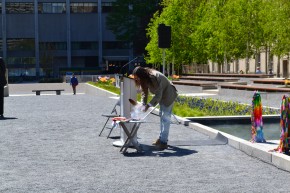 Other special guests who participated in today's event were the Chair of the Toronto Interfaith Council, Zul Kassamali, and Toronto Poet Laureate Anne Michael.