The cancer drug used to treat former U.S. president Jimmy Carter after a melanoma spread to his brain is showing remarkable results.
A study shows Keytruda has helped some patients survive for at least three years, where until recently they faced dismal chances of living for more than a few months.
New data about to be released to a meeting of cancer specialists shows that 40 percent of the patients who have been taking the drug are still alive three years later. That compares to about 5 percent of patients given the standard therapy, interleukin, the American Society for Clinical Oncology (ASCO) says.
Keytruda is among a new class of genetically engineered antibody-based medicines that block proteins that prevent the body's disease-fighting immune system from attacking cancer cells.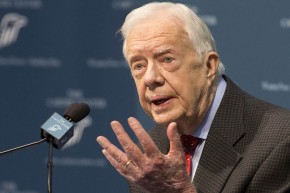 Melanoma is the deadliest form of skin cancer. It is easy to cure when caught early, but it is often hard to tell of a mole or freckle has turned cancerous. Jimmy Carter, for example, was only diagnosed once the tumors had spread to his brain, last fall. That's Stage Four cancer and it's almost always deadly at that stage. But Carter has remained well enough to continue teaching his weekly Sunday school classes and said this past Sunday he'd just traveled to London.