A new book by the last president of the Soviet Union is causing a stir in Russia.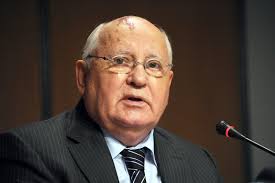 Mikhail Gorbachev criticizes Russia's current president saying the rift between government and people can no longer be tolerated.
The 85-year old writes that he is increasingly convinced that Vladimir Putin's regime is playing for time and clinging to power for its own sake.  He also says both the current government and Russian society face a historic choice and he believes the country's complex problems can be resolved only by means of democratic interaction between them.
Gorbachev argues that a strong presidential authority is needed in Russia, but he says not a Fuhrer and certainly not a Stalin.
"New Russia" by Mikhail Gorbachev was released yesterday.