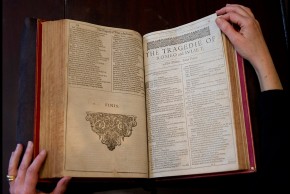 A rare first edition of William Shakespeare's works from 1623 sold for $2.75 million at a Christie's auction last night.
 A private US collector bought the book and three subsequent Shakespeare collected works for a total of more than $4 million.
The rare first edition, known as a First Folio, was published just seven years after Shakespeare's death.  Some 750 copies are believed to have been printed only about 200 are known to exist.
The anthology contains 36 plays including 18 that were published for the first time — such as "Macbeth" and "Julius Caesar" — and would probably have been lost without the First Folio.