There was controversy over our national anthem at last night's Major League Baseball All Star game in San Diego. Watch below:
That's Remigio Pereira of The Tenors, who inserted a political statement into the lyrics of O Canada before the game.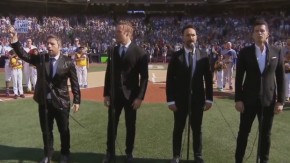 The Tenors call him a "lone wolf" member of the quartet and have announced he will not be performing with them until further notice.
The actual lyric in that line is "With glowing hearts we see thee rise, the True North strong and free."
In a statement on Facebook, members of the British Columbia-based quartet say the groups is "deeply sorry" and "shocked and embarrassed" over what they call a selfish and disrespectful lack of judgment.
Pereira also held up a sign during the song saying "All Lives Matter" with "United We Stand" written on the back of the sign.
The anthem wasn't shown live on American television, but it aired in Canada, where the changed lyric drew a firestorm of criticism on social media.
Pereira later explained on Twitter that he had been moved by the recent "tragic loss of life" and hoped for a positive statement to bring everyone together.
The phrase "all lives matter" is widely viewed as a rejection of the Black Lives Matter movement, especially after the recent police shootings of two African American men.
Bob Reid of Veritas Communications joins Zoomer Radio's Fight Back with Libby Znaimer after the noon news to talk about the O Canada debacle.