According to the Ontario Ministry of Transportation, time has ended for the submission of comments by members of the public regarding the widening of Highway 7/8 through Shakespeare. The public had until October 31 to agree with or complain about the ministry's choice of a route that runs right through the hamlet of 750 people. This route was outlined at a Public Information Centre in August.
We hope that the public has made its opposition to the ministry's current plan so vigorous that the ministry will drop its idea to wipe out the heart of Shakespeare and settle on another way of moving traffic through this area.
There will be another PIC – the fourth in a series – but if the ministry has not listened to the public at that point, it will have locked in the Shakespeare route as its only choice. It seems to me, and to many Shakespeare supporters, that local politicians must step up NOW to Save Shakespeare.
In the past, Perth East councillors, the most local politicos, have spoken out against the widening of the highway through Shakespeare.
About three and a half months ago, at a presentation to council by the ministry and its project consultant, Coun. Bob McTavish said, "Going straight through Shakespeare, gutting it in fact, just isn't appropriate."
Councilor Bob McMillan said, "These are people's businesses, these are people's homes and ultimately this affects the whole dynamics of this hamlet. I hope that there is some way to mitigate the effects of going through Shakespeare by looking at options that could be available … four lanes, three lanes instead of five lanes."
Mayor Ian Forrest said, "We don't want to see something go through that would destroy half the businesses."
The councillors told the ministry that residents are afraid they won't be able to cross the road to attend church, go to school or to use the sports field and community centre.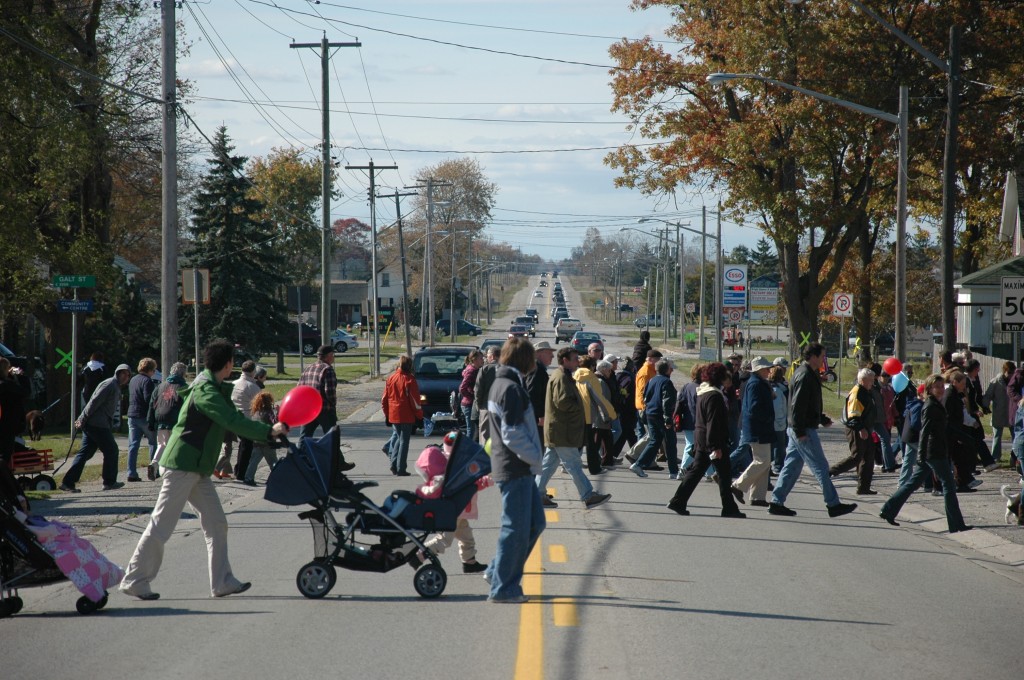 However, Councillor McTavish, did congratulate the MTO's efforts to keep the road widening from affecting agricultural land, individual farms and forest cover. He should talk to other farmers who don't like the plan either.
The Perth County Historical Society said it didn't want Fryfogel's Inn impacted by the new highway. And it said there were other historic properties and land that should be preserved.
It bothers me that Perth East councilors were surprised three months ago to hear the ministry intended to ram its wider road through Shakespeare. This route has been debated for years and it shouldn't have come as a surprise to local politicians that this idea was on the table. Somebody was asleep at the switch, seems to me. I hope they are not still napping.
Councillors are refusing to talk to me – and they didn't attend the first rally to Save Shakespeare, on October 17th. Hopefully, they are talking or will talk very soon with the ministry to persuade Ontario to drop this scheme for Highway 7 / 8. Until now, all I hear from other residents of the area is that councillors are taking a wait and see approach. Wait for what? To see Shakespeare disappear before their eyes?
Here is what Shakespeare could lose if the highway is widened: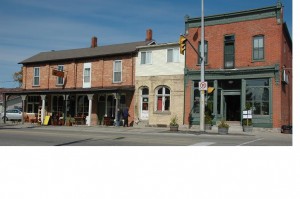 This popular tea room and shop at the main intersection (and only traffic lights).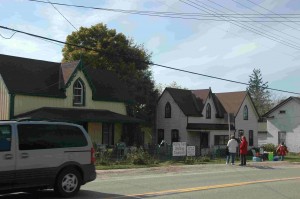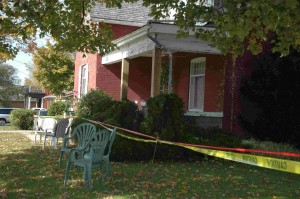 Trees and lawns and much more of Shakespeare and vicinity, including the historic FryFogel's Tavern to the east of the community, will vanish, under a layer of concrete and tar.
Local councillors: where are you? Your voices are needed.  Free airtime at Goldhawk Fights Back on AM740. 
Visit Goldhawk.com to see the way Goldhawk is building a safer marketplace for Canada's consumers with up-to-date news and information about shopping smartly and avoiding fraud.