U.S. Secretary of State John Kerry has met with Iraq's Shiite prime minister after arriving in Baghdad earlier today.  It was just three years ago, Iraq saw the departure of American troops and now faces the threat of a civil war.  Kerry wants to help foster a power-sharing agreement in hopes of diluting a vicious insurgency fueled by widespread Sunni anger at the Shiite-led national government.  The closed door meeting lasted about 90 minutes.  Kerry was not expected to urge the Prime Minister to resign despite calls for a new Iraqi leader.  Instead, he had planned to encourage Nouri al-Maliki and other leaders to build a government more inclusive of minority Sunnis and Kurds. Walking to his motorcade after the meeting, Kerry said "that was good".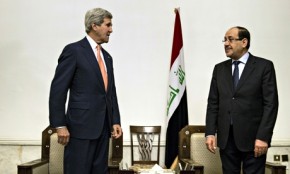 In Luxembourg, British Foreign Secretary William Hague says European leaders are fully behind John Kerry's efforts.  "We all very strongly support his message in Iraq that political unity in Iraq, an inclusive government is absolutely essential to combating the extremists and the terror that has been brought by ISIL or ISIS."
The assaults by militants attached to the Islamic State in Iraq and the Levant, Or ISIL, this weekend have bolstered its cross-border supply lines with Syria and could serve the group's goal of carving out an Islamic state from the Mediterranean Sea to the Persian Gulf.
Meantime, eight people were killed and 13 injured by a pair of explosions at a funeral for a military official in Iraq's Anbar province.