It'll be an exciting night at Sotheby's in London – for a painting of an iconic Toronto landmark.
Artist Peter Doig's oil landscape painting of  Toronto's "Rainbow Tunnel" beside the Don Valley Parkway – may shatter auction records – and fetch more than $16.5 million.
The work is titled "Country-Rock (wing mirror.)"
Sotheby's describes the work as transporting the viewer into a "fantastical realm of reverie."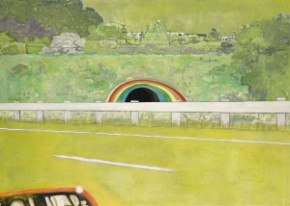 (Sotheby's)
Doig was born in Scotland and grew-up in Canada.
His 1991 landscape "Road House" brought in about $13 million at a New York Christie's auction in May.
Another of his Toronto-inspired works,"Jetty" sold for about $10.5 million in London in June 2013.