A wildfire continues to rage out of control in Northern Alberta.
The entire town of Fort McMurray – a hub for the oil sands – has been evacuated.
80-thousand residents were forced to flee their homes after a fire that has been burning since the weekend grew and crept closer to the area.
Dozens of homes have been destroyed in the area and the hospital was also evacuated as fire engulfed the facility late Tuesday.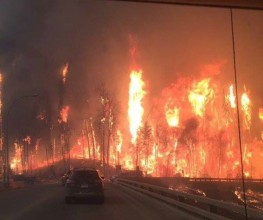 The 100 patients were airlifted to a hospital in Edmonton.
So far, no one has suffered serious injuries but officials say there are people that were stuck in Fort McMurray and will be attempting to get them out today.
Many who work at the oil sands call Fort McMurray home, and were given time off to secure their families. Suncor Energy says it believes output will be down today because of that.
Military personnel have been called in, but it's believed they won't get there for two days.
Officials in the region say it's expected the weather won't favour the fire fighters as high temperatures, low relative humidity and high winds are expected to return.