It has been said that old actors never die. They just fade away.
Romanian actor Radu Beligan shows no sign of doing either.
The 95-year-old has been declared the world's oldest active actor.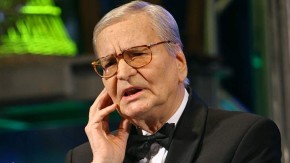 The title was confirmed by Guinness World Records yesterday. And Beligan celebrated by stepping into the main role of The Egoist by French playwright Jean Anouilh. He played the aging playwright Leon Saint-Pe for the 330th time.
Beligan debuted in a stage version of Crime and Punishment in 1937. He is beloved by Romanians for his melodious voice, aquiline features and stern gaze. Beligan has starred in 80 plays, acted in 30 films and made numerous television and radio performances.
After being presented with a certificate of the Guinness award, he called on theatergoers to stop applauding. He told them, "I have no merits at all. I am the result of the love you've shown me for so many, many years."