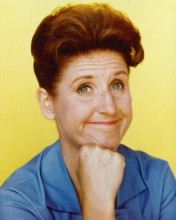 Zoomers remember her well from The Brady Bunch.  Emmy-winning actress Ann B. Davis, who played the housekeeper on that popular television show, has died at a San Antonio, Texas hospital. She was 88.  Pastor Bill Fry was a friend to Ann B Davis.  He says she suffered a fall on Saturday at her home in San Antonio and never recovered.  Looking back on her life, he says in the mid-1970s, the actress gave up being a celebrity.  "It was kind of a mid life reconversion about 45 years ago, went to visit her local church in Hollywood and got into a bible study and just discovered things that she had never dreamed of before and just became an ardent Christian," Fry explained.
Davis told The Associated Press in 1993 "I was born again," – "It happens to Episcopalians. Sometimes it doesn't hit you till you're 47 years old."
The Brady Bunch debuted in 1969 and aired for five years, with Davis as Alice, the mainstay for the blended sitcom family. Davis appeared in various Brady spinoffs and sequels over the years.  In the 1950s, Davis was the sharp-tongued secretary on another stalwart TV sitcom, The Bob Cummings Show. The role brought her two Emmys.