Summer vacations for nearly a quarter of Canadians won't include travel.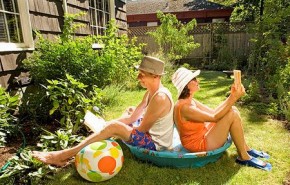 A new survey by the website Retail Me Not says budget concerns are keeping them close to home.  The high price of gas and accommodations are the top reasons for staying home followed by high air fares.  Just 7 percent of Canadians say they'll be travelling overseas this summer.   But the survey found that Canadians who are enjoying a "staycation" will spend between $100 and $300 on alcohol during their holiday.
Canadians do appear to like camping, regardless of how much money they make.  Forty per cent of those with an income of $100,000 a year or more say they are heading to the woods this summer.