A former Conservative staffer, convicted in the 2011 robocalls scandals, has been sentenced to jail.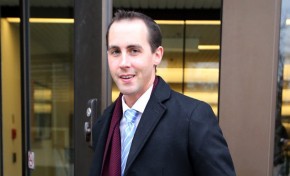 Michael Sona got nine months behind bars and 12 months probation in what the judge calls a "difficult and troubling sentence."
Thousands of automated calls went out to citizens in the Guelph area with incorrect information on where to vote.
Liberals supporters received most of the calls.
Sona was found guilty of preventing or trying to prevent an elector from voting in  the 2011 federal election.
The Crown had wanted him to spend at least a year and a half in jail for his role in misdirecting voters on the morning of the election.
Crown Croft Michaelson was looking to send a message to anyone who might consider committing election fraud.