The Nova Scotia-based abstract painter is being remembered as one who "certainly leaves a strong mark on … the painting community, on the art world in Canada."
So says Sarah Filmore, the Art Gallery of Nova Scotia's chief curator.
Jacques Hurtubise died at his home in Inverness last Saturday at age 75.
Born in Montreal, he lived and worked in Nova Scotia for over 30 years.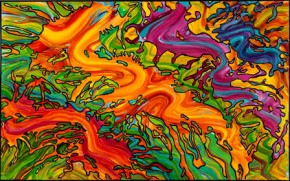 Known for his abstract, brightly coloured acrylic paintings, Hurtubise had his first major show at the Montreal Museum of Fine Arts when he was in his 20s.
Before his death, the Art Gallery of Nova Scotia had planned an exhibit in February 2015 to showcase the gallery's recent acquisitions of his work.
Curator Filmore says now "we'll be working to dedicate that show to him in a slightly different way."