Bestselling Australian author Colleen McCullough, whose novel The Thorn Birds sold 30 million copies worldwide, has died at age 77 after a long illness.
McCullough died today in a hospital on remote Norfolk Island, HarperCollins Australia publishing director Shona Martyn said in a statement.
McCullough had continued producing books despite a string of health and eyesight problems by using dictation, Martyn said.
"Ever quick-witted and direct, we looked forward to her visits from Norfolk Island and the arrival of each new manuscript delivered in hard copy in custom-made maroon manuscript boxes inscribed with her name," Martyn said.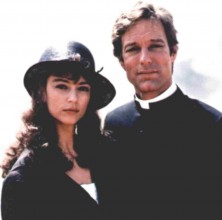 McCullough's The Thorn Birds was the inspiration for the television miniseries which aired in 1983 and starred Richard Chamberlain and Rachel Ward.
McCullough wrote 25 novels throughout her career. Her final book Bittersweet was released in 2013.
Her first novel Tim was published in 1974. It became a movie starring Mel Gibson, who played a young, intellectually disabled handyman who had a romance with a middle-aged woman.
(The Associated Press)