It happened January 29th after a Leafs game, but a violent confrontation between two TTC enforcement officers and two men at Union station, that was captured on video has only now surfaced online and gone viral.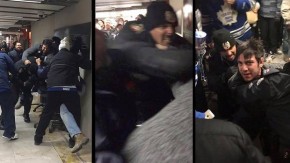 Police were called and eventually charged the two men with assaulting the officers.
TTC CEO Andy Byford says no complaints were ever received concerning the enforcement officers but because the video's surfaced and the concern it's caused, he went to the police who are now investigating.
Byford says while it's still not known what started the fight, he says it was not a fare dispute.