An early 20th century stage curtain – believed to be the largest Pablo Picasso painting in North America – is going to be displayed at a New York City museum.
"Le Tricorne" or "The Three-Cornered Hat," was painted in 1919 for an avant-garde ballet troupe – and measures 20 by 19 feet.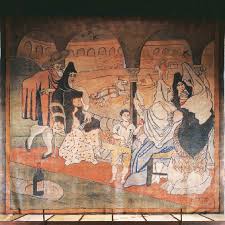 The work hung at the famous Four Seasons restaurant in New York for 55 years.
It will be put on long-term display at the New-York Historical Society beginning on May 29th – with a related exhibition running from May 29th – through summer 2016.
The Picasso tapestry shows spectators and a fruit vendor at a bullfight.
The daughter of Seagram founder Samuel Bronfman acquired the large work in 1957 – and displayed it in the Seagram Building restaurant.
Seagrams gave it to the Landmarks Conservancy in 2005.