He was a humanitarian who saved 669 Jewish children from the Holocaust.  Known as "Britain's Schindler", Nicholas Winton has died at the age of 106
His son-in-law says Winton died yesterday.  His daughter Barbara and two grandchildren were said to be at his side.
It was only after Mr. Winton's wife found a scrapbook in the attic of their home in 1988, that he spoke of his all-but-forgotten work in the deliverance of children who were destined for Nazi concentration camps and extermination.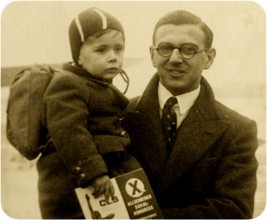 Winton had said nothing for a half-century about his role in organizing the escape of the children from Czechoslovakia on the eve of World War II.
He was a reluctant hero, often compared to Oskar Schindler, the ethnic German who saved 1200 Jews by employing them in his enamelware and munitions factories in Poland and Czechoslovakia.  Winton was also compared to Raoul Wallenberg , the Swedish businessman and diplomat who used illegal passports and legation hideaways to save tens of thousands of Jews in Nazi-occuped Hungary.