First, Troy Tulowitzki.
Now, David Price.
For the second time in as many days, the Blue Jays make an eye-popping trade.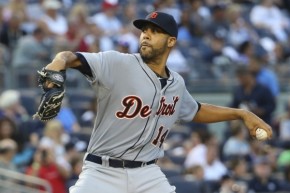 This time the ball club acquired one of the most sought after pitchers ahead of the Friday afternoon non-waiver trade deadline.
Going the other way to Detroit are three of the Jays' left-handed pitching prospects, including Daniel Norris.
Price, the 2012 Cy Young Award winner as the league's top pitcher with Tampa Bay, has a record of 9-4 this season with an earned-run average of 2.53 while striking out 138 over 146 innings.
General Manager Alex Anthopoulos says "I think he's going to fit incredibly well with this group.  There's a great dynamic in that clubhouse.  It just seems like the mix there is very, very good.  And, look, at the same time, we still need to win games.  I think every team gets better when you add a player like this.