Art belonging to the late celebrated writer and civil rights activist Maya Angelou will soon be on the auction block.
Among the nearly 50 pieces being sold off is a painted story quilt that hung in her New York home.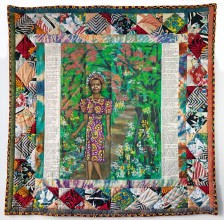 Titled, "Maya's Quilt of Life", it depicts Angelou surrounded by flowers with excerpts from some of her writings and may go for between $150,000 and $250,000.
It was commissioned by Oprah Winfrey for Angelou's 69th birthday in 1989.
The collection could fetch $400,000 to $640,000.
It'll be on view at Swann Galleries in New York September 9 through 11.
The auction's on September 15.
Angelou died last year at the age of 86.