A fleet footed Japanese centenarian has raced into the Guinness Book of World Records.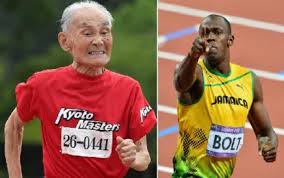 Hidechkichi Maizaki, who has been dubbed the "Golden Bolt" after Usain Bolt, the fastest man on earth, set a 100 metres world record in the over-105 age category yesterday in Osaka.  He came in at slightly more than 42 seconds, just a day after his 105th birthday.
Miazaki told the media that he wasn't at all happy with this time.  In fact he says he stated shedding tears during the face because he was going so slowly.  He says the reason for that is he might be getting old.