NDP leader Tom Mulcair was put on the defensive during the first televised french language federal election debate. But he came out of it unscathed. Mulcair's New Democrats are running for re-election in the majority of Quebec's seats after a landslide victory in that province under Jack Layton in 2011.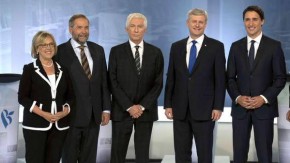 There were no so-called knock-out punches during the two-hour debate in Montreal, which involved all five party leaders.
During a discussion of constitutional issues, Liberal leader Justin Trudeau challenged Mulcair's position that a simple majority in a referendum would be enough for Quebec to separate.
But the NDP leader was quick to defend his federalist credentials, as he explained in english after the debate.
"I mean, I have the advantage of having fought in the 1980 referendum and in the 1995 referendum. I was in the National Assembly in '95, and in 1980 I fought as a volunteer. That's part of my track record. That's who I am. I've always fought for Canada," said Mulcair.
As for Conservative Leader, Prime Minister Stephen Harper, he simply repeated that he wasn't interested in reopening constitutional talks. He did not meet reporters after the debate.  The federal election is October 19th.