We will have a rare chance here in Toronto and across southern Ontario to see a spectacular celestial event tonight that has not happened for 30 years – a lunar eclipse with the moon nearing the closest point to the Earth.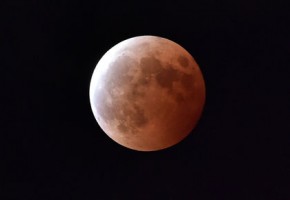 An awe inspiring blood red supermoon will cast an eerie light on the Earth.
The moon tonight will appear 14 percent larger than normal and 30 percent brighter.
The last time we saw a blood moon with a lunar eclipse was in 1982. The event won't be repeated until 2033.
During a lunar eclipse, the moon turns a deep rusty red, as sunlight is scattered by the Earth's atmosphere.
The supermoon lunar eclipse will be visible in Toronto starting at 8:11pm, and ending shortly after 1am on Monday, according to NASA.