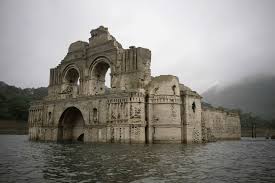 It's a eerie and amazing sight.
The roofless ruin of a 400-year old church has emerged from a reservoir – in the south of Mexico – as a result of a severe drought in the state of Chiapas.
The 16th century church was built in the area by Spanish colonisers – and is usually beneath the water – where it sits on the bed of the reservoir..
But a drought this year has dropped the water level by 25 metres – exposing the ghostly structure.
The church was submerged in 1966 when the reservoir was created – and it's the second time a drop in the water level has revealed the church – which is 61 metres long.
In 2002, the water was so low – visitors could walk inside the church.