French satirical magazine Charlie Hebdo is marking the first anniversary of the massacre at its Paris offices with a special edition set to be published Wednesday.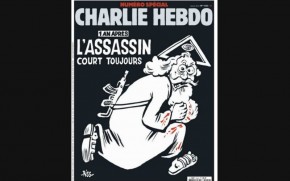 Tomorrow's front cover shows a bearded man representing God with a Kalashnikov rifle and the headline "One year later: The assassin is still on the run."
It was January 7, 2015, a year ago Thursday, that two Islamic terrorists opened fire on an editorial meeting killing 12 people in revenge for the magazine's satirical cartoons.  Over the next three days, more died during a siege at a kosher supermarket and in a raid on a printing facility on the outskirts of Paris.
Throughout this week, France is remembering the victims with memorial plaques, eulogies and other public ceremonies.  French President Francois Hollande will attend a public memorial in Paris on Sunday.