A former prosecutor is expected to be a key witness today, when lawyers for Bill Cosby ask a Pennsylvania judge to dismiss the only criminal case lodged against him.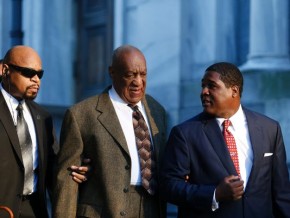 (Bill Cosby arrives at the Montgomery County courthouse for hearing in sexual assault case against him in Norristown, Pa., on Feb. 2, 2016. Photo Credit: Kena Betancur, AFP/Getty Images)
The defence says Cosby had a deal with former Montgomery County District Attorney Bruce Castor that he wouldn't be charged and should therefore testify in his accuser's 2005 civil lawsuit.
The 78-year-old Cosby admitted in the testimony that he gave the woman three pills before engaging in what he called consensual sex acts at his Philadelphia-area home.
Cosby's recently released deposition is part of the new evidence that Montgomery County authorities used to file charges in December.
Castor says he made a "non-prosecution" deal with a now-deceased lawyer for Cosby but never put it in writing. He testifies today.
(The Associated Press)