Final preparations are underway for Rob Ford's funeral today at St. James Cathedral at King and Church Streets in downtown Toronto.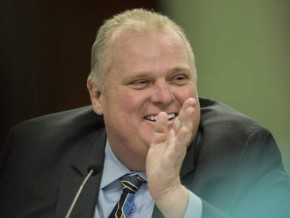 At about 11:00 this morning, the casket of the city councillor and former mayor will be taken in a procession from Toronto City Hall to the cathedral. His brother Doug Ford has invited people to walk along with the family on the route along Queen to Yonge, south to King, and east to Church.
At 11:30, there will be a final call for invited guests to enter the church, and then an honour guard will escort the casket into the cathedral for the service which begins at noon.
The family is hoping to allow between 50 and 100 members of the public inside the church, but 700 additional people will be accommodated on the west lawn of St. James Cathedral where two large tents will be set up with audio and video feeds.
Former Premier Mike Harris, Doug Ford and the children of Rob Ford, Dougie and Stephanie, will be among those who will pay tribute to Rob Ford during the service.
The family is planning a celebration this evening at the Toronto Congress Centre on Dixon Road. Rob Ford died last week at the age of 46 of a rare form of cancer called pleomorphic liposarcoma.