Republican U.S. presidential candidate Ted Cruz says comments by his rival Donald Trump on abortion demonstrate his lack of policy know-how.
Frontrunner Trump said during an MSNBC town hall that if abortion is ever banned, women who get one should be punished.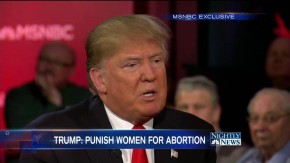 "There has to be some form of punishment for the woman," Trump responded to the interviewer's question whether he believes in punishment for abortion.
Trump later dialed back his position, saying that abortion providers, not women, should be the ones punished.
Democratic presidential frontrunner Hillary Clinton says she is in disbelief over Trumps latest comments.
"What Donald Trump said was outrageous and dangerous," Clinton explained, "I'm constantly just taken aback at the kind of things that he advocates for."
"Shameful is probably understanding that position," said Clinton's rival Bernie Sanders, "To me, and I think for most Americans, women have the right to control their own bodies, and they have the right to make those personal decisions themselves."