It's decision day for Mike Duffy.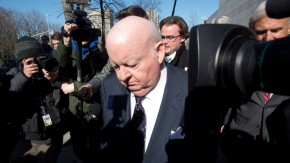 The disgraced senator will learn from an Ontario trial judge today whether he did anything criminally wrong by submitting certain living and travel expense claims for repayment, and if a personal cheque written by a top government staffer to then Prime Minister Stephen Harper constituted bribery.
Duffy was charged in July 2014 of 31 counts of fraud, bribery and breach of trust. He has pleaded not guilty to all of the charges.
The saga began in 2012, when Auditor General Michael Ferguson issued a report that recommended taking steps to ensure members of the upper chamber were submitting enough proof their expense claims were for legitimate parliamentary business.
"Members of the Internal Economy Committee are senators making decisions about senators' spending, so I think just to instill and increase confidence of the public that senators are making appropriate decisions about spending of senators, it's important to have some sort of independent body playing a role in that," Ferguson said at the time.
Two other senators, former Liberal Mac Harb and former Conservative Patrick Brazeau, are currently awaiting trial for their own expenses while Senator Pamela Wallin is still waiting to learn whether she will face charges.
If Mike Duffy is acquitted, he can return as soon as the upper chamber convenes again. If found guilty, he will remain on a leave of absence without pay until sentencing.