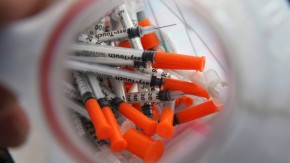 They'll be at the Toronto Public Health facility at 277 Victoria Street, the Queen West-Central Toronto Community Health Centre and South Riverdale Community Health Centre which also have needle exchange programs.
Councillor Joe Mihevc says "We are looking forward to helping the injection drug users but also helping those communities becoming safe places."
In 2014, the most recent year for which statistics are available, 258 died from a drug overdose in Toronto compared with 146 a decade earlier.
Councillor Joe Cressy, who says the supervised injection sites will help to save many lives, hopes they'll be open sometime this year.
Currently, the only Canadian city with such sites is Vancouver which has two.